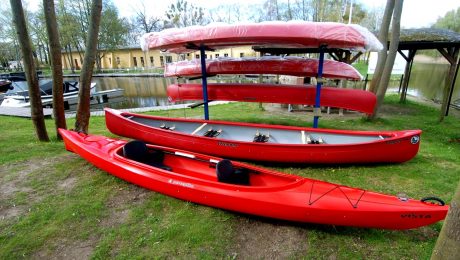 These Canadians are characterized by an extremely high level of stability. Moreover, the long waterline ensures a high cruising speed and good tracking. They are unsinkable and are perfect for families, beginners and paddlers tour with a lot of luggage. Overall, we now have 4 canoes type Canadians.
In addition, more 2er kayaks Perfection Vista were purchased. These are suitable for beginners and advanced for river and Seewanderung and bulk water. The Kayak offers plenty of space and comfort on two seats with backrest for 2 adults and can be rented on request with an additional child seat . Overall, we now have 8 Kayaks.
Also new are our dry packs in two sizes (20 and 40 liters), which can be purchased or rented for the trip.
With the extended canoe stock, we are now able to offer up to 34 people canoeing fun for groups. With our new canoe trailer we can now offer the transfer of canoes for attractive One Way Tours.
What are you waiting for? We look forward to seeing you in the Marina Old Port.
In the future, we can thus better serve larger groups.
We look forward, in addition to our existing portfolio , about 5 new 2er kayaks and 2 new 4 Canadians. The spring can come!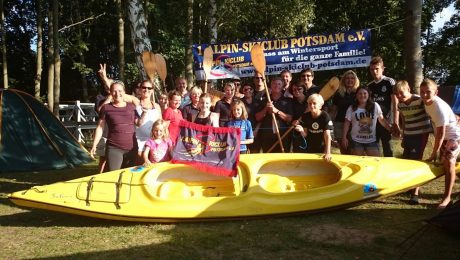 Ski Club meets at our marina.
The winter is coming and to prepare for the upcoming ski season, custom one no mountains or even snow – That our friends from "1 Alpine Ski Club Potsdam e.V." with us shown in the your annual canoe trip around the waters of the Brickyard Park have planned and carried out by our location.
It is personal to hear our pleasure that "the best paddling in recent years" applies in this event as.
We can expect, hope to welcome again with us soon you hardly when it's time again for barbecue, and water sports at the campsite Marina Old Port.
Learn more about the club found at: www.alpin-skiclub-potsdam.de