License-free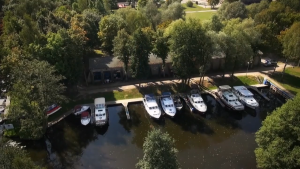 Boats and yachts license-free
Even without an official sports boat license you are allowed to go boating on our boats and yachts (license-free).
You can acquire a charter certificate after an intensive three-hour briefing which enables you to boat a large number of the Mecklenburg waters.
Generally, the charter certificate is valid for charter boats with a maximum length of 15 metres. The maximum speed of 12 kph must not be exceeded and, depending on the boat license, up to 12 persons are allowed on board. After a theoretical instruction the provisions, traffic regulations and the territory will be explained to the crew. The practical part practices and explains the steering and manoeuvring of the yacht. After a successful test drive the charter certificate will be issued. It is valid for the period of the charter and is always to be carried on board.
Completing the three-hour charter certificate briefing costs only 110.00 €.
Have a look at our tutorial charter certificate video. Video is only available in German.