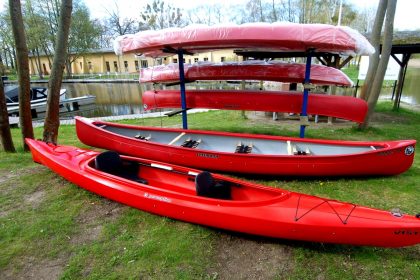 These Canadians are characterized by an extremely high level of stability. Moreover, the long waterline ensures a high cruising speed and good tracking. They are unsinkable and are perfect for families, beginners and paddlers tour with a lot of luggage. Overall, we now have 4 canoes type Canadians.
In addition, more 2er kayaks Perfection Vista were purchased. These are suitable for beginners and advanced for river and Seewanderung and bulk water. The Kayak offers plenty of space and comfort on two seats with backrest for 2 adults and can be rented on request with an additional child seat . Overall, we now have 8 Kayaks.
Also new are our dry packs in two sizes (20 and 40 liters), which can be purchased or rented for the trip.
With the extended canoe stock, we are now able to offer up to 34 people canoeing fun for groups. With our new canoe trailer we can now offer the transfer of canoes for attractive One Way Tours.
What are you waiting for? We look forward to seeing you in the Marina Old Port.