Idyllic marina "Alter Hafen" to expect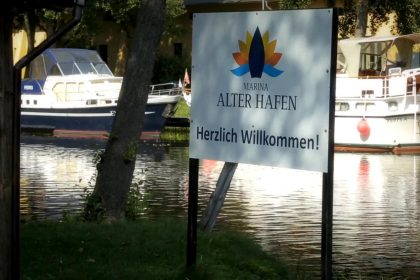 Our idyllic marina "Alter Hafen" is located on the Upper Havel waterway.
Located between the Mecklenburg Lake District and Berlin / Potsdam. The ideal location for water sports enthusiasts and recreation seekers located right in the Ziegeleipark Mildenberg, the cycle path Berlin – Copenhagen, on European Route E10. Here open up interesting possibilities to discover the surrounding natural paradise.
The neat port facility offers a perfect infrastructure and a complete service around the boat . In addition to a competent harbor crew to expect a harbor office with shop and bakery service, clean and disabled WC with shower, baby room, washing machines, dryers, kitchen and a covered barbecue in the open with us. Angel cards and accessories we hold as ready for you.
Summer berth find in our harbor a quiet place to stay and can their boats with fresh water and electricity supply, and be equipped with new gas cylinders.
For the winter season, we put our stock for your boat and if necessary a crane service.