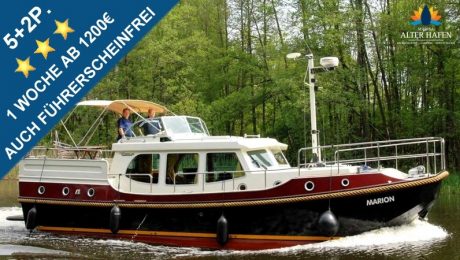 Charter our yacht "Marion" for the permanently favorable price!
From the beginning of October this year we would like to introduce to you with pleasure our nine diminished prices of our comfortable yacht "Linssen Dutch Sturdy 380 AC Twin".
In the low season you save up to 200 euros and in the main season / summer vacation time even up to 300 euros per week for the original price.
In addition, are valid our other savings.
On this classical yacht with their generously limited interior you find all comfort for vast journeys. Marion is equipped among other things with two engines as well as two tax states.
---
Offer: Enjoy the golden autumn!
e.g., from the 07/10th to the 14/10/2017th
Whole price incl. final cleaning
only 1,388.00€
---
New entry in our yacht fleet
High-quality quality hits on exclusive comfort!
Full pride we are glad to be allowed to introduce to you in the coming season our new entry, our yacht "Siemer 44". Are one of the first captains on our comfortable and luxurious 44-foot yacht and enjoy the generously limited interior with three sleeping cabins and two baths. Optically joins our "Ronja" perfectly in our already existing fleet. The high-quality interior equipment is convincing with noble ceramics in the shower area, a galley with dishwasher, to a TV in the drawing room as well as in the cabins as well as enough cuddy for your luggage. Big and comfortable double beds and a pleasant standing height are quite natural here. Besides Outdoor mattresses contribute to the solar bathing, an integrated bicycle bearer as well as an electric grill to your vacation for good sensations.
Switch off from the everyday stress and take time for the really important things in the life. Enough place offers for your family or friends with 6 sleeping places our "Ronja". Come to the unique driving pleasure and protect to yourselves by now your period on a boat which attracts the attention every Skippers to itself. With us your vacation already begins by the quite individual and non-binding offer production. Also with questions before and during your Törns our competently qualified harbour crew always stands to you aside.