!!! NEW ARRIVAL IN OUR FLEET FAMILY !!!
We proudly would like to introduce our new comfortable yacht "Mirabel".
It is a comfortable and stylish Linssen Dutch Sturdy 260 OC. They can accommodate 2 + 1 persons, and especially by their new teak deck in the cockpit , can spend on which wonderful hours. This yacht can be (incl. cleaning) for rent starting at € 870.00 per week.
What are you waiting for? Be the first charter guest on our Mirabel!
Let today renews their come and get 7.5 % early bird discount. The team of Marina Old Port is looking forward to your visit!
Finally it is here, our hot expected "Antaris Cruiser MK 825" , named Edmond Dantès.
We have already tested our Edmond for you and let us go away.
Make it us right away and go with this comfortable cabin cruiser to travel!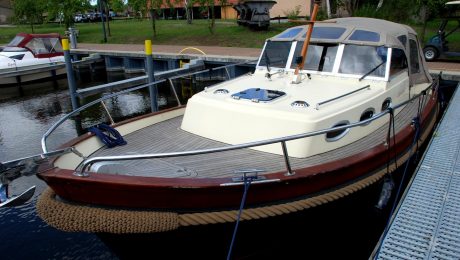 Antaris Cruiser "Edmond Dantès" at marina.
Dear guests, we are pleased to introduce you to our newcomer "Edmond Dantès," a Antaris Cruiser MK 825, in our Marina "Alter Hafen" at the Ziegeleipark Mildenberg!
Be one of the first bird and enjoy exquisite driving pleasure in this comfortable cabin cruiser.
The type MK 825 is an evolution of a sailing cutter and has now received his beautiful sporting form. As is traditional typical, has "Edmond Dantès" on oval portholes and a round tail. Well protected behind the windscreen is the navigation station with a height-adjustable control chair. Like all our yachts, the Antaris Cruiser MK 825 can be maneuvered excellently. It is equipped with a steering position and a quiet 65 HP Vetus diesel.
Edmond does: Whether short break or longer trip, because in no time are bench and circular sofa converts to double beds and can therefore accommodate 2 adults and a child enough space.
Come aboard and make yourself comfortable while you sail the Upper Havel waterway to Müritz along and discover the natural paradise around Berlin and Potsdam.
The team of Marina looks forward to you!