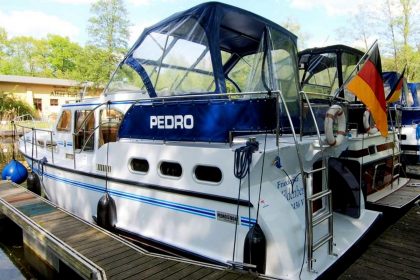 Experience and discover more on a one-way Summer Special Tour of Marina Wolfsbruch in Rheinsberg on fantastically beautiful small lakes after Mildenberg.
In the high season, from 18 to 25 June 2016 (1 week = 7 days / nights)
Yacht Pedro Skiron 35 (4 + 2)
Boat handover in the Marina Wolfsbruch 15:00; Boat return in Mildenberg to 9:00 am
Price: 1,899.00 EUR incl cleaning and transfer your passenger cars to the Marina Wolfsbruch after Mildenberg.
Other included services: Unlimited operating hours, fully equipped galley including gas for stove, blankets, pillows, sheets, towels, water maps, detailed Briefing Times, parking for your car, liability and comprehensive insurance with SB, supporting tour.